The COVID-19 pandemic affected performance across all sectors in 2020 – and the rental market was no exception. Overall, 2020 saw rents plummet across the country, including significant falls in all seven of the most expensive cities in the US: San Francisco; New York; San Jose; Boston; Oakland; Washington DC; and Los Angeles. But how is the US rental market looking as we move into 2021?
What's the Overall Picture?
The national picture for the US property market shows that the median rent for a 1-bedroom apartment has increased by 0.6% and a 2-apartment flat by 1.7% compared to the same time last year. Of course, there are outliers on both ends, with rents up by 36% in Detroit but down by 24% in San Francisco over the past 12-month period.
Bay Area Shows First Signs of Growth
The rental market in San Francisco, which is consistently the most expensive place to rent in the US, has started to show the first signs of a reversal in the rental market crash that persisted throughout 2020. The latest report released by Zumper shows that rents in San Francisco have risen for the first time since April 2020, suggesting that the current rental market stagnation may not last too much longer.
Mid-Sized City Growth Stalls
2020 saw rental prices in mid-sized cities such as Cleveland, Newark and Detroit jump massively as renters moved to these traditionally more affordable cities and away from more expensive parts of the country. This huge growth is finally showing signs of slowing down as we enter 2021, with the bottom 92 of the top 100 ranked cities in Zumper's latest report showing a yearly growth of 0.8%, down from a peak of 7.5% in July 2020.
Price Difference Between Expensive and Cheaper Cities has Grown
Curtesy of Zumper, they have seen see evidence of this shift in trends when we compare rental prices in the country's priciest cities compared to the rest of the country. The chart below shows the percent difference between the median 1-bedroom price in the eight priciest cities and the remaining 92 cities tracked in this rent report. A year ago, the median 1-bedroom price across the top eight cities was 120% higher than the bottom 92. That price premium bottomed-out in November of 2020 at 75%, and sat at 79% as of February 2021. While 2020-Q2 and 2020-Q3 showed a rapid narrowing in price between these two categories, we started to see early signs of a reversal in 2020-Q4, which has continued into 2021.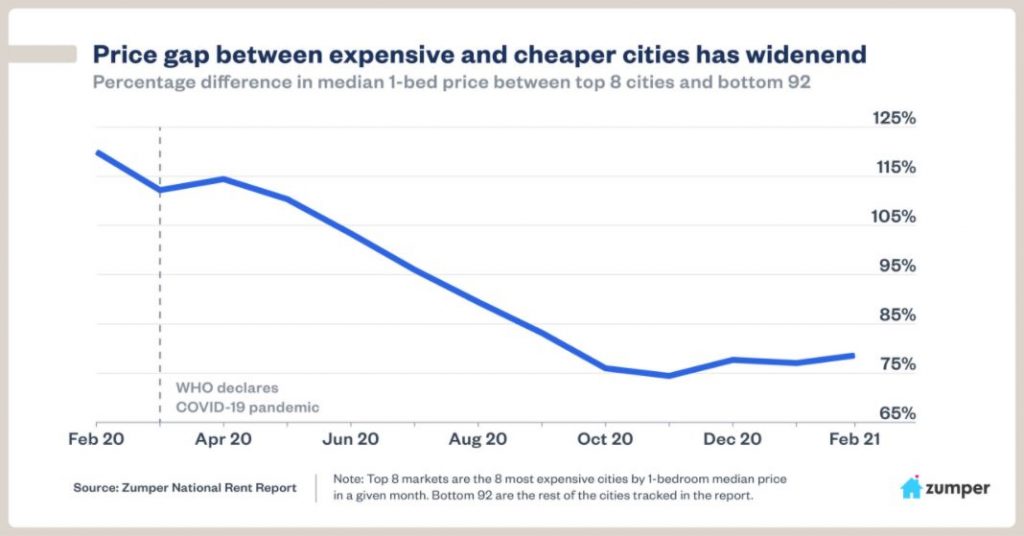 More information on rental prices can be found on Zumper.com
How Can Property Inspect Help Property Owners?
If you've seen a larger than usual number of tenants moving in and out of your properties over the course of 2020, you might be wondering what you can do to help streamline your business. Property Inspect's inspection software can help you. Our software makes it easy to conduct check-in, check-out, and mid-tenancy reports, meaning that landlords can rest assured their properties are being well-looked-after, and tenants can be happy that landlords are fixing property issues as and when they arise.
Our software, which is available for both Android and IoS, makes conducting property inspection reports easy. It allows you to manage tenant moves and create detailed property inventories with minimal effort, meaning you won't risk losing any important details. It also comes with handy templates that allow you to easily write up reports for single-occupancy and multi family homes, apartment blocks, condominiums, and everything in between. Having all your property documents available in one easily accessible place means everyone is on the same page, eliminating the need for costly end-of-tenancy disputes.
You can schedule property inspection appointments in advance, making it easy for you to arrange a time that suits both you and your tenants. Our software also makes it easy and simple for you to reschedule appointments when needed.
So – Have Rents Stagnated or Grown?
In summary, the rental picture across the US in 2020 hasn't been a cause for despair. While rents fell in some of the nation's most expensive big cities like San Francisco and New York, this has been short lived and has already begun to show signs of reversal. Meanwhile, rents have increased in mid-sized cities like Cleveland and Newark, but this too is showing signs of stabilising. No matter how stable or unstable the US property market turns out to be in 2021, investing in easy to use property management software will make it quicker and simple for you to check in with your tenants and keep your properties well-maintained and safe.
Nationally
Rents grew nationally for both 1 and 2-bedroom units in February, +1.1% to $1240 and +0.9% to $1501, respectively. Compared to a year ago, median 1-bedroom rent was up 1.8%, and median 2-bedroom rent was up 2.6%.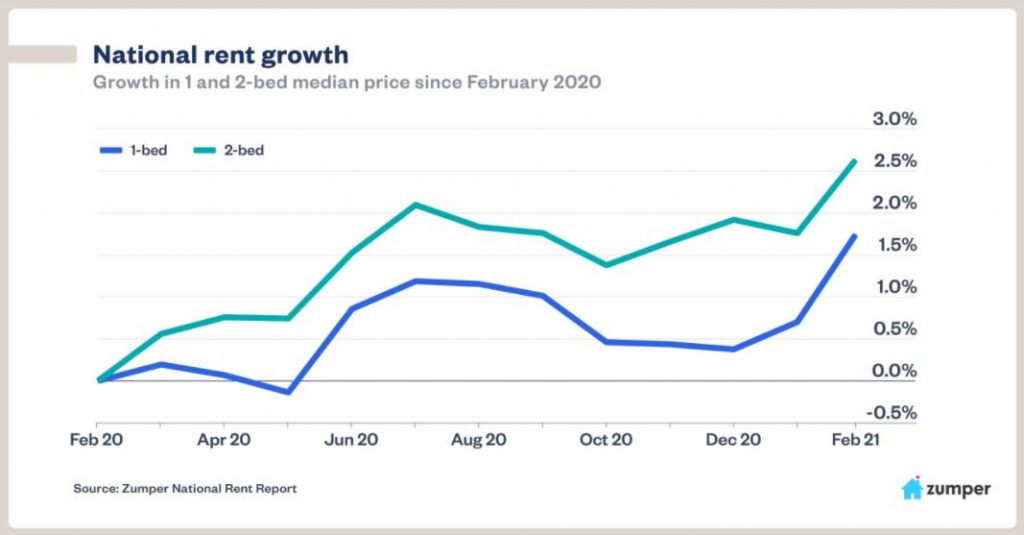 Rents continue to be down considerably in historically expensive, coastal cities from a year ago. At the same time, rents in historically cheaper cities throughout the Midwest and Southwest are up considerably from a year ago.