Over the years, facilities management has faced its share of scrutiny. Of the countless arguments levied against it, not being strategic enough and failing to both adapt to and adopt new technologies stand out as areas of concern.
This, of course, is not true for every facilities management department in every sector, but these points frustrate sector commentators, thought leaders, researchers and industry bodies from time to time, and understandably so.
However, it's not all doom and gloom – facilities managers across the world show time and again that they can consistently push the boundaries of their profession, taking their operational effectiveness to new heights and leading the charge for even more change in a fast-changing field.
It has to be said, facilities management is no walk in the park. In order to be effective and efficient while driving change at the top level, facilities management professionals walk a constant tightrope, balancing overarching organisational goals with underlying targets.
Facilities management is a profession that requires a broad and varied skillset, so the practitioners at the top of their game should rightly be praised for their efforts.
In what is an intensely multi-disciplinary field, within a given organisation facilities managers are responsible for a breadth of functions. After all, they're tasked with getting stakeholders spanning the workforce to buy into its objectives, striving for coordinated support across the board.
It's wholly natural then to expect that some areas and challenges get overlooked.
Overlooking the key challenges in Facilities Management
In facilities management, there appears to be a heightened emphasis on cost reduction. So much so in fact that other challenges are often sidelined. In a roundtable report issued by RICS, participants drawn from a pool of 400 facilities managers across six continents highlighted a handful of challenges that were most frequently faced in the profession.
Of those challenges detailed in the RICS report, four challenges stand out above all else.
Measurement
Within facilities management, there is a desperate need for the development of a measurement-focused culture with more effective metrics, rather than a focus on the lowest-cost functions.
New Ways of Working
Understanding how we work is key to driving change and building bridges across the organisation. There is obscurity to the role of a facilities manager that could have implications for overall organisational strategy.
Technology
As is the case for many professions in this day and age, the constant stream of new technologies makes it hard for facilities management to keep pace. From the Cloud to the internet of things (IoT), and green tech to Building Information Modelling (BIM), the rapid advancement and shifting technological landscape leaves facilities management asking which technologies to focus on next.
Productivity
The effectiveness, productivity and creativity of teams in facilities management can often be overlooked, with the efficiency of buildings taking precedence. This can be a dangerous territory to slip into, as workforce productivity, operational effectiveness and individual creativity all feed directly into a more efficient asset.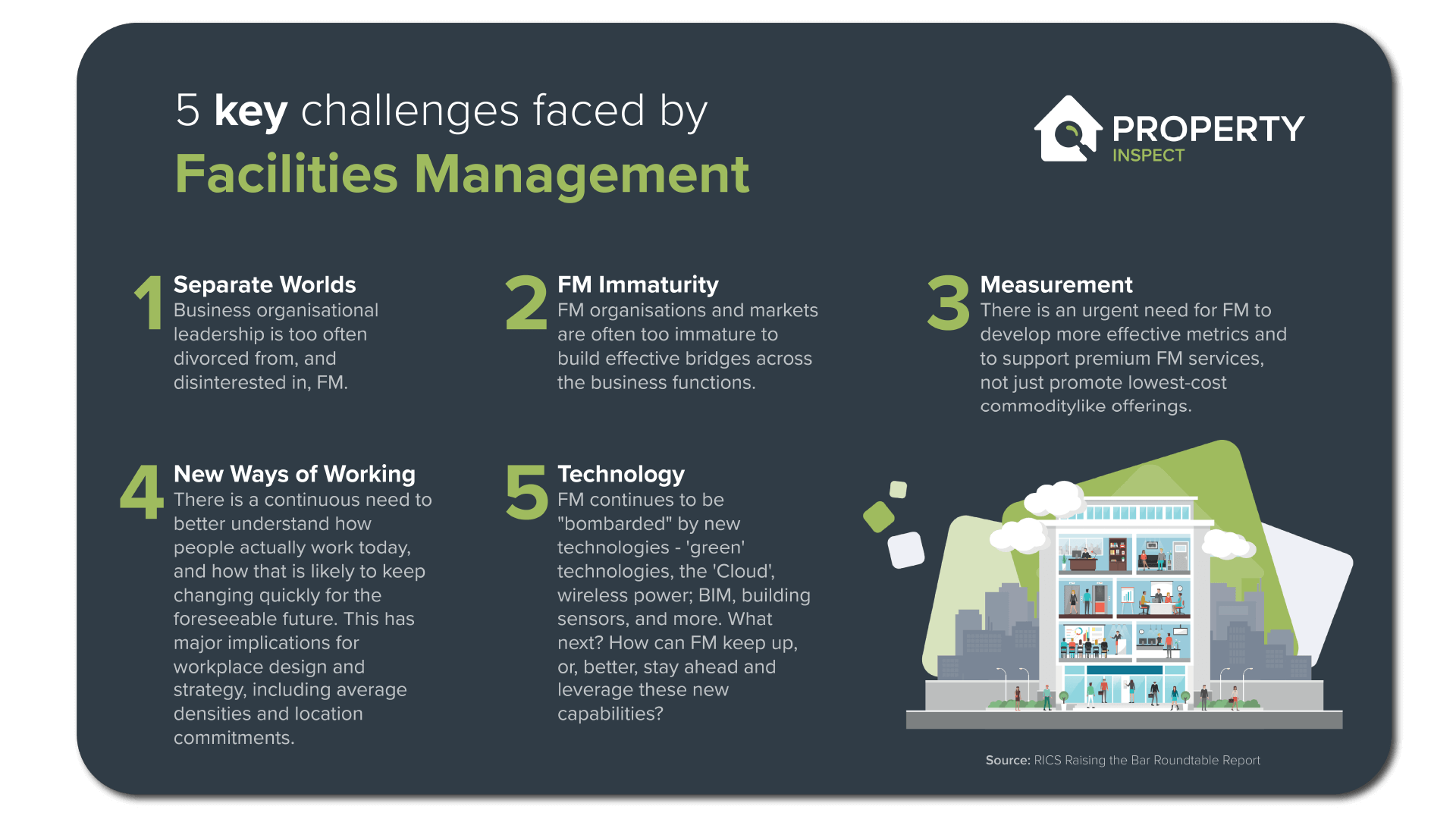 ---
"Businesses rely on facility management practices to give them the information they need to make informed decisions, so the facility management reporting process should be a representation of the ambition and goals of the organisation as a whole" – Warrick Swift, Property Inspect
---
The bigger Facilities Management picture
The facilities management profession continues to evolve and, as a result, so does the context within which it operates. Economic and technological change continue to drive uncertainty in the space, which impacts facilities management workforces directly.
While it is true that there are major opportunities to be had in the sector, there are also threats to the profession with external and internal disruptive forces at play. From the fourth industrial revolution to the changing nature of work, the bigger picture in facilities management may at times appear blurred.
At its core, however, facilities management remains steadfastly focused on its functions despite the shifting sands.
On the one hand, its dedication to maintaining and managing the built environment, assets and functions of an organisation – its facilities – are the keystone of the role. However, on the other hand, some may place more weight and consideration on the impact that facilities management has upon the rest of the business as a direct result of its role and relationship in the overarching organisation.
Wherever you stand, facilities management faces a huge opportunity to widen its scope, level up its role in organisational effectiveness and raise the bar, showing in the process just how much of a role it plays in a business' wider strategy and operations.
---
"The understanding that facilities is a big part of the organisation's bottom line and including the team at the table of business strategy can be valuable in attaining the business goals" – RICS Roundtable Report
---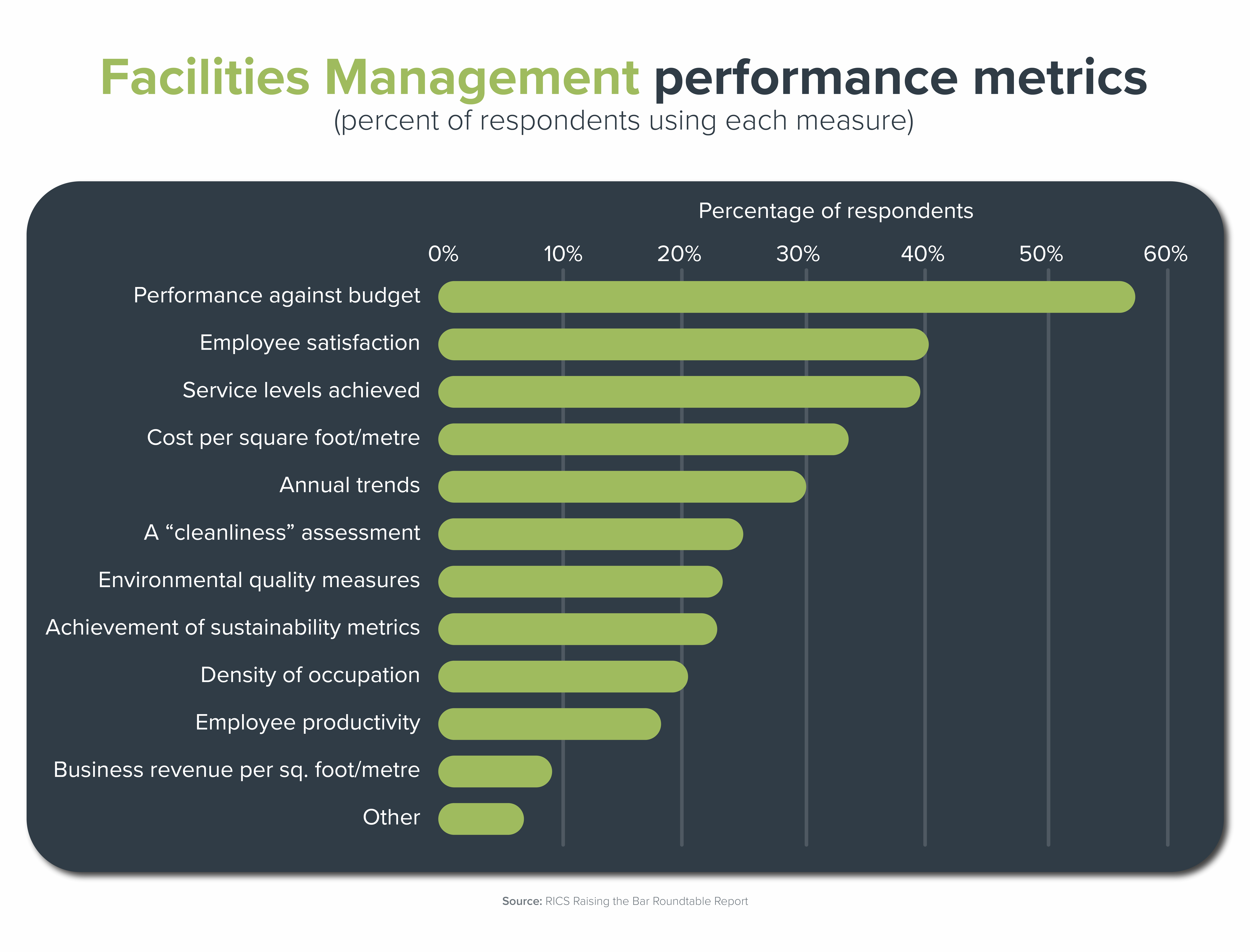 Raising the Facilities Management bar
So where do facilities management workforces go from here? How do they raise the bar and continue to evolve?
In the report, respondents were asked "What do you consider the top issues/challenges facing senior facilities executives". Of the responses, technology, asset management and workplace and space management accounted for almost a quarter (21%) combined.
With regards to technology, four key challenges were highlighted by the respondent, as follows.
1. Using New Technologies to improve efficiency and outcomes
2. Adapting to new technologies
3. Systems and Information Management
4. Keeping abreast with new technologies
It's impossible to argue with the fact that the nature of work has become dependent on technology. This technological dependence, however, is not always at the cutting edge. Dependence on outdated technologies can lead to poor operational performance, stifling productivity.
The speed at which new technologies are adopted in facilities management has been a sticking point for some time, with organisations enraptured by an apparent need to embed every inch of the business in sensors and monitoring. Instead, many in the profession argue that the emphasis needs to shift, away from trends and into an enabling of the fundamentals.
"It must move beyond technology to monitor space utilisation and energy consumption, to a focus on using technology, data, and analytics to underpin and enhance the workplace experience," states the report. Grasping the digital age as we know it depends so much on applying technology to enhance and augment the facilities management role, creating new kinds of work experiences, productivity, and efficiency.
Taking into account the wider challenges and the more granular barriers to adoption faced by professionals, an end-to-end facilities management solution that both enhances and augments the facilities management workforce, all while connecting them to the rest of the business, stands to reason as the most logical route forward.
Not only does it allow facilities management professionals to address those big four concerns – measurement, new ways of working, technology and productivity – but it also goes some way towards driving recognition of the fact that facilities management is fundamental to operational effectiveness and organisational efficiency.