Two sectors that are often confused for one another are the build to rent (BTR) sector and the private rented sector (PRS). In actuality, PRS is an overarching industry with build to rent sitting somewhere inside it, but the distinction goes deeper than that.
Conceptually speaking, build to rent seeks to emphasise the tenant experience, paying particular attention to amenities and community. This difference in approach is what sets the build to rent sector apart from other areas of the PRS.
Industry experts claim that the recent surge in the build to rent sector is inspired by the shortage of rental accommodation, so developers are eager to capitalise by seeking new ways to appeal to a market that has historically been made up of many smaller buy-to-let landlords.
The Build to Rent Market
Although build to rent is a relatively nascent sector in the United Kingdom, it has seen a marked increase in popularity of late. This is evidenced by the significant investment in the market over the last few years, not to mention the media coverage.
As reported in the Financial Times recently, investors, banks and property funds injected £4.1bn into the UK's build to rent sector last year, with more than half of that outlay coming in the fourth quarter. Adding some context to that figure, build to rent investment in 2020 was approximately £500 million less.
This year looks set to be another bumper one for the sector, too, with almost £4.5 billion worth of deals and developments already slated for 2022.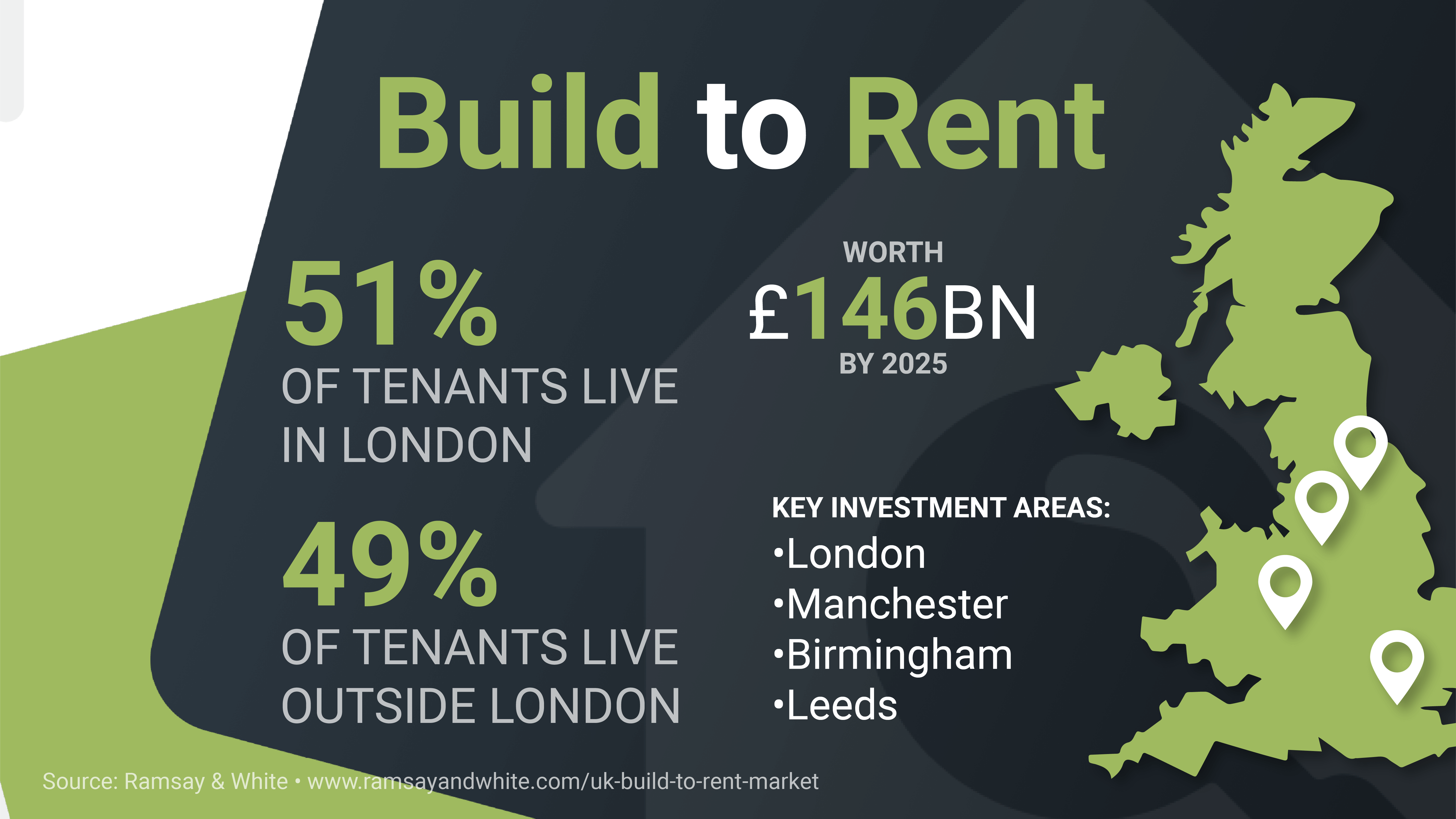 What is Build to Rent?
While it may seem like it due to the amount of media coverage recently, build to rent isn't entirely new. It has been a long-established and lucrative sector in continental Europe and the United States, where it is referred to as multifamily, BTR or even in some cases B2R.
Although some keen-eyed developers and investors with a nose for opportunity have been working in the space for several years in the UK, it has only grown in prominence on this side of the pond more recently.
So what is build to rent? BTR developments are purpose-built units designed to appeal to a specific rental market, rather than the more commonplace new builds that appeal to homeownership.
It is common for BTR developments to be conceptualised, built and marketed with a particular demographic in mind, such as young professionals or young families, and the amenities integrated alongside the rental units take their particular needs into account.
What we're seeing more and more nowadays, and this is especially true in coworking spaces and modern offices is that more attention is being paid to the experiential aspect. This is what build to rent, as a process, does so well.
The emphasis on experiential living, spurred on by a generational consumer shift, has really come to the fore, with things like on-site gyms, communal lounges, a 24-hour concierge, game rooms and even community apps for networking with other residents included in developments.
Because of this generational shift to digital natives with completely different lifestyles to the renters of yesteryear, technology is playing a greater role than ever before.
The Technology Making Build to Rent Possible
As we've said, the BTR sector is relatively young by comparison, but the technology powering it has been maturing for some years. Technology really makes a difference in two areas, one benefitting the tenant and the other the landlord or property manager.
Tenant experience and lifestyle
In our fast-moving world of "on-demand everything", today's consumer expects services 24 hours a day, 7 days a week. Up to now, leasing property has been a protracted affair, with a lot of back and forth between the agent, landlord and tenant, printing and signing paper documents, photocopying identification, and so on.
Today's digital native expects this process to be truly digital, a demand that has been made all the more relevant due to the restrictions imposed by the pandemic. Now, managing a lease from start to finish through digital lease management software is easier than ever.
Social networking also plays an important role in BTR, too. This generation's online proclivities have seen their social circle balloon outwards, which is not always a good thing, so canny BTR developers are utilising social networking solutions to foster a close-knit community in their developments.
Smarter utilities are growing in prominence in UK households, too, with smart meters like Nest and the ever-popular Google Home controlling everything from the lights to heating. Some build to rent developers are centralising these utilities through similar means, installing smart appliances and smart fixtures that appeal to this tech-heavy generation of renters.
Building operations and property management
The Internet of Things (IoT) has steadily grown in popularity, and this is true for the more modern BTR developments, too.
A potentially seamless, smart development can be unlocked through a network of IoT sensors and AI-powered monitoring can ultimately offer unique residential experiences for renters, making the lives of property managers all the more easier.
Building operational data like building emissions for example, can give ESG-conscious property managers and developers a deeper understanding of how their developments are run, and the impact they have on the environment. This too can be unlocked with IoT.
Property management software is also a must-have tool for build to rent property managers. Empowering your property managers to track tasks, capture maintenance issues and report to their teams ensures for a smoother running operation.
As the BTR market is ultimately centered around the needs of renters, it's clear to see why this aspect of property management is fast-becoming a mainstay in the build to rent sector.
Logging evidence, responding to maintenance issues and rapidly distributing that intelligence to teams across the development, whether it's one or a whole portfolio, ensures for the smoother running of things, enabling property managers to focus on the key aspects of tenant satisfaction.
In today's hyperconnected world, the ability to integrate your property management process with other software, infrastructure and platforms boosts efficiency to no end. Property management and reporting software connects the dots, streamlining business operations to the benefit of the developers, investors and, above all, the tenants.