A study by intranet company Unily in 2020 revealed that 72% of workers were concerned about the environmental ethics of their employers, while 83% believed their employers were not doing enough to tackle climate change.
Since this study was conducted, the global Covid pandemic has highlighted how significantly our working lives can be changed with the right amount of will, as well as given all workers a glimpse at a world with lower emissions.
Why is sustainability important?
Sustainability is one of the biggest trends in almost every industry right now as climate pressures mean everyone from office workers to hospitality workers are considering how they can cut their carbon emissions while maintaining the same level of productivity.
A 2021 study by Zety also suggests that 27% of candidates consider an organisation's ethics to be the most important factor when looking for a job. This comes above work from home options, which was chosen by 25% of respondents.
Whether it's the way we travel to work, how we consume energy through the day or even the green credentials of the buildings we spend our days in, those who believe in tackling the climate crisis will be paying attention to the details when looking for work.
Source: ONS
With each successive generation feeling more worried by the climate crisis, it's even more imperative that businesses continue adapting to more sustainable practices and make sure their current and potential staff know about it.
Finding the greenest places to work
Using a number of environmental and structural factors, Property Inspect has identified the greenest places to work in the UK and the US.
the factors chosen for the UK were:
Renewable energy generation (MWh)
The number of EV charging devices per 100,000 residents
Vehicle traffic per household
The percentage of non-domestic EPC ratings above a C grade
These factors were chosen because they help to identify how businesses in these areas are able to operate in more climate-conscious ways, as well as how the environmental quality of the area affects an employee's ability to live a greener life.
The greenest places to work in England and Wales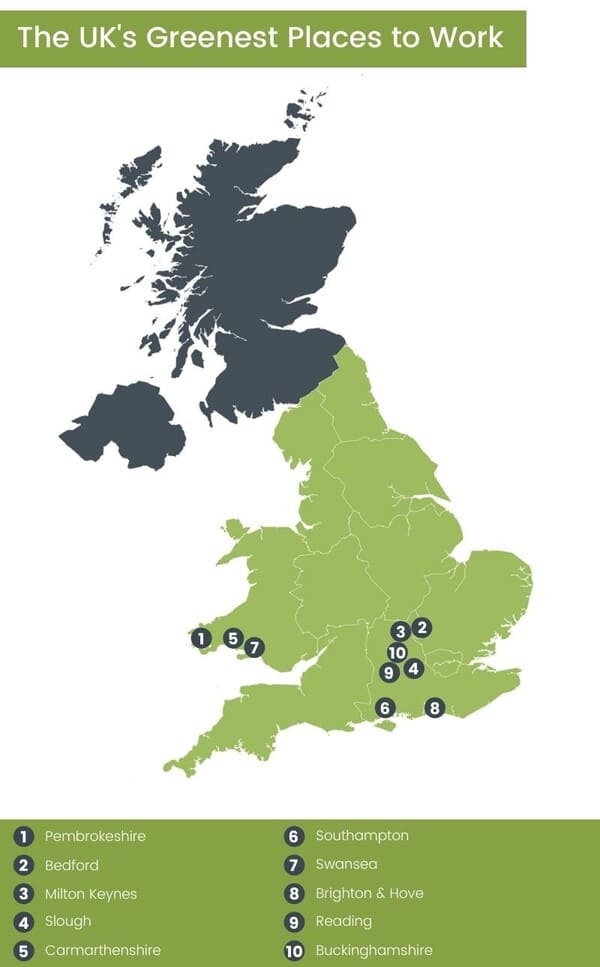 Though each Local Authority has been scored on individual factors including traffic, renewable energy generation and the EPC rating of office buildings, the top performers were consistently in the South East and Wales. This suggests that businesses and local councils are committing to climate actions, as well as a distinct difference in the available infrastructure in the south of the UK.
These 10 Local Authorities performed the best when excluding Local Authorities in London. When London was included, 5 of the top 10 Local Authorities were from London, including Newham, Merton, Islington, Southwark and Hounslow.
The greenest places to work in London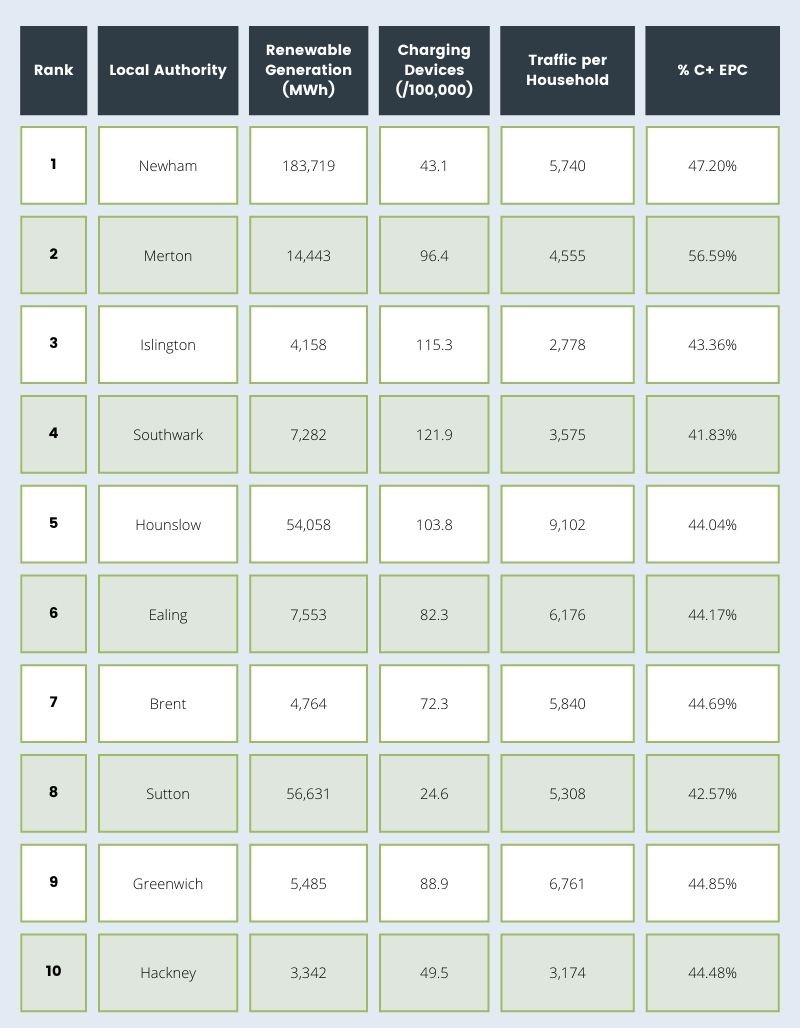 Though the capital sees a huge amount of traffic in comparison with most of the rest of the country, the larger number of households helped to balance out the results in favour of many places in London where EV charging points are more plentiful and renewable energy generation is higher.
The greenest places to work in the US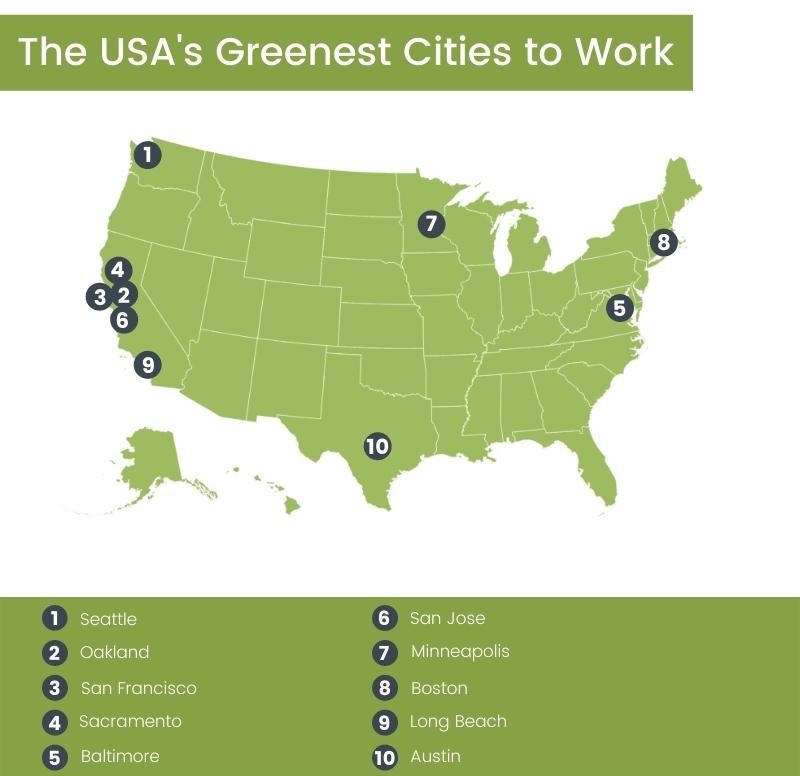 A slightly different set of data points was used to identify the greenest cities in the US, including:
Renewable energy generated at the state level (MWh)
EV charging points per capita
Electric car searches on Google
The level of PM2.5 measured in each city
These factors were chosen as they can be used to understand how climate-conscious businesses and individuals are able to act at both the state and city levels. These factors can therefore help employees identify the areas where they can find careers that enable them to meet their own climate goals while also reducing the impact of their work.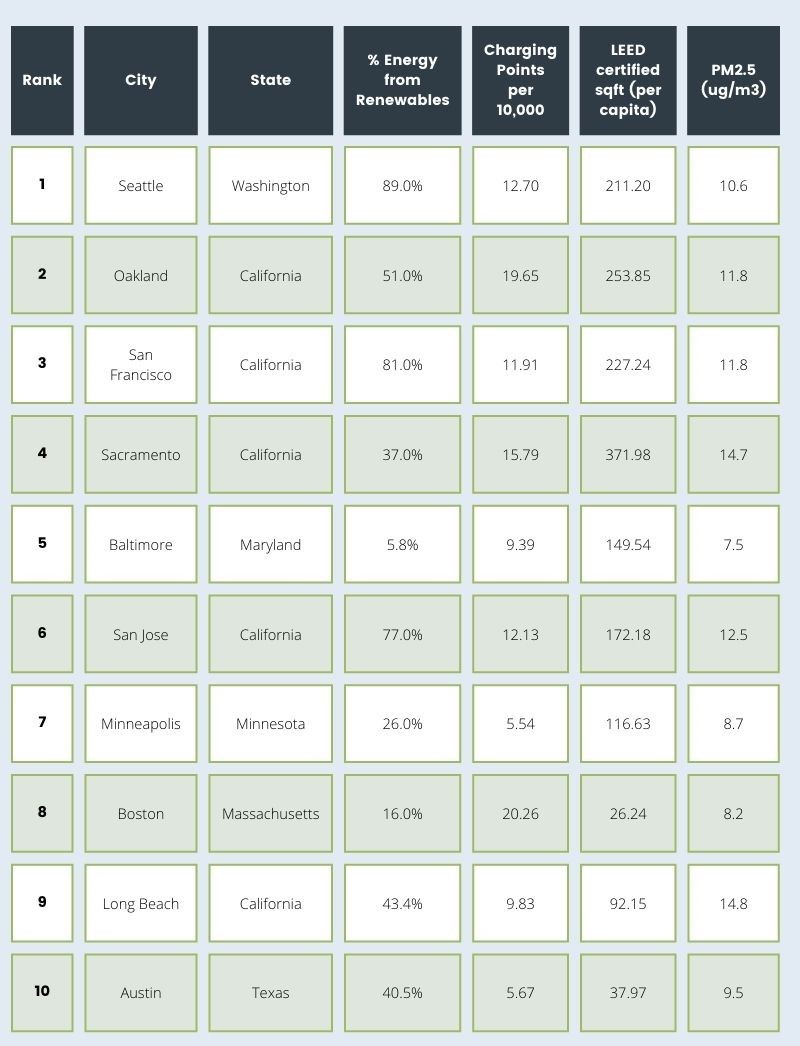 The value of LEED certification for commercial real estate
Used all around the world, Leadership in Energy and Environmental Design (LEED) certification is an effective framework for energy saving, healthy places of work. In addition to saving money on overhead costs through efficiency, LEED buildings have also been proven to command higher rents than other properties.
The scheme has saved 78 million tonnes of CO2 emissions and buildings consume an estimated 25% less energy.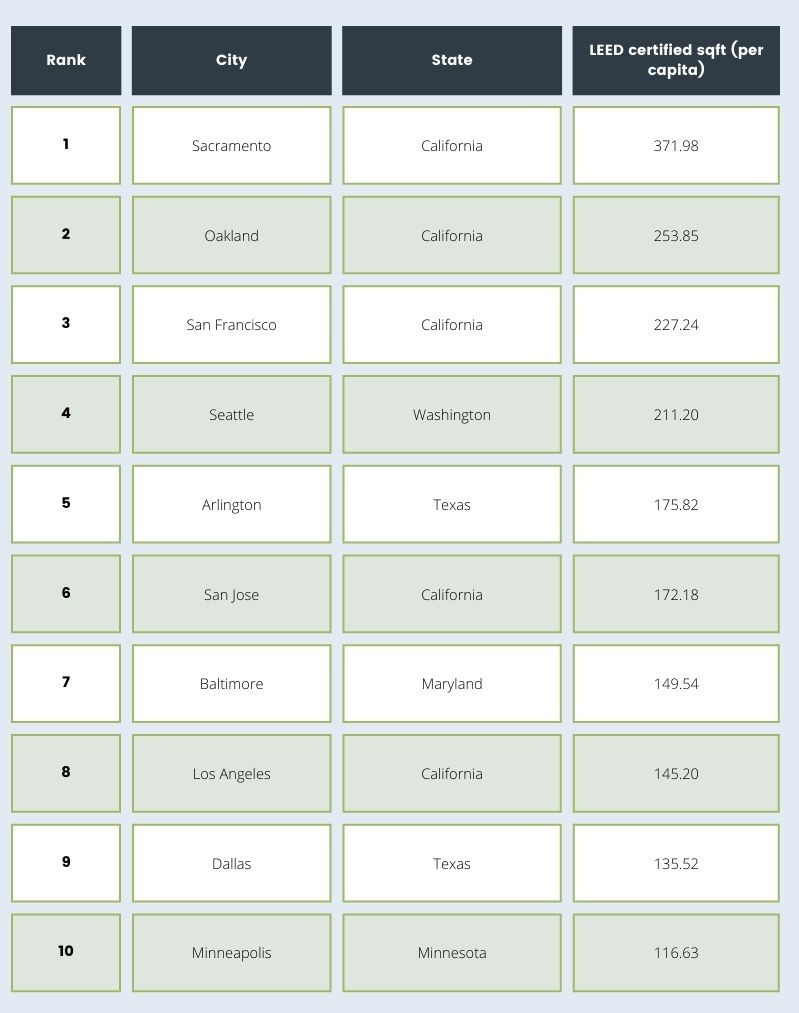 UK stats about sustainability at work
US sustainability in business