Mixed-use has become a popular term in development and real estate over the years, in fact they are one of the fastest-growing areas of real estate development. But what does 'mixed-use' really mean? It can be confusing because it tends to be a general term that covers an extremely large variety of development sectors ranging from a small retail shop to a massive master-planned residential community.
The Urban Land Institute's Mixed-Use Development Handbook characterizes mixed-use development as one that 1) provides three or more significant revenue-producing uses (such as retail/entertainment, office, residential, hotel, and/or civic/cultural/recreation), 2) fosters integration, density, and compatibility of land uses, and 3) creates a walkable community with uninterrupted pedestrian connections.
This variety of uses allows for people to live, work, play and shop in one place, which then becomes a destination for people from other neighborhoods. The goal is convenience. Residents and workers are closer to the things they do and need on a daily basis – they don't have to drive to grab a cup of coffee, visit the library or even get to work in some cases.

Source: Gensler 
Mixed-use developments can also make more efficient use of land and public infrastructure as stated by Atlanta's Regional Commission's Quality Growth Toolkit . The right mix of uses can be extremely efficient in using resources such as roadways, parking, and even water and sewer. That is because different uses are generally active during different times of the day, week — or perhaps even different times of the year.
Types of Mixed-Use Development
Vertical Mixed-Use Development
Combines different uses within the same building
Provides for more public uses on the lower floor such as retail shops, restaurants, of commercial businesses
Provides for more private uses on the upper floors such as residential units, hotel rooms, or office space. 


Horizontal Mixed-Use Development
Consists of single-use buildings within a mixed-use zoning district parcel, which allows for a range of land uses in a single development project
Provides for a variety of complementary and integrated uses that are walkable and within a given neighborhood, tract or land, or development project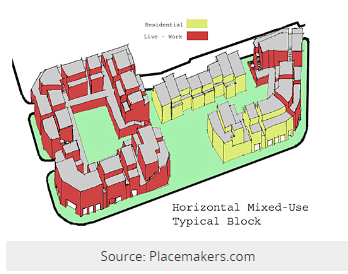 What is driving the mixed-use development trend?
Mixed-use development has a long history in the United States, dating back to the country's earliest days. One of the first examples of multi-use development was Boston's Quincy Market, built in 1824. The market was designed to include commercial, meeting, and office space, and it quickly became a popular destination for both businesses and residents.
Over the next century, mixed use zoning became increasingly common in American cities as urban populations grew. New York City's Greenwich Village is one of the best-known examples of this trend. A once-rural area, it transformed into a densely populated neighborhood with a mix of shops, restaurants, apartments, and houses.
Although most people will attribute the growth of mixed-use development to the Millennial generation (roughly defined as those born between 1980 and 2000), the above tells us that in fact is not true. The National Association of REALTORS® (NAR) "2017 Community and Transportation Preference Survey" also uncovered:
62% of Millennials and 55% of the Silent Generation (people born between 1928 and 1945) prefer shorter commutes and walkable communities
54% of young women rank sidewalks and places to walk as important factors when deciding where to live
39% of young women want public transit nearby
49% of women and 48% of men named a short commute to work as a deciding factor in determining where to live
A 2019 study conducted by the International Council of Shopping Centers also saw an increase in the number of people who would consider living in a mixed-use community.
78% of U.S. adults said they'd explore the option, including 85% of Millennials and 71% of Baby Boomers
55% cite convenience as the main driving force
44% indicated that their visits to retail include other activities besides simply shopping
36% have increased visits to fitness/ wellness facilities and 34% to medical facilities located in mixed-use locations
38% surveyed said they spend more on dining out than in 2017 and 50% said would like to see more options at shopping centers
40% of respondents wanted more entertainment and leisure venues
In summary, people want convenience, and frankly, always have. Mixed-use development encompasses the 'live, work, play' motto by combining uses that meet resident needs and foster a tight knit community.
The Pros and Cons for Investors, Residents and Business
Crexi's recent December 2022 guide explains the pros and cons of mixed used development, and despite challenges, outlines how mixed-use developments can offer unique opportunities for investors and a positive ROI.
Investors
Mixed-use properties can be an attractive investment for commercial real estate investors due to the steadier income stream that they can provide. This is because mixed-use properties are less susceptible to changes in the market, as there is always a demand for the various types of uses they offer. For example, even if the office market in a particular area softens, a mixed-use property's retail and residential components will still be in demand.
Residents
Tenant residents may appreciate the convenience of having retail and other services located within the same building or complex as their home. This can save them time and money by eliminating the need to travel to separate locations for these different needs. It can also create a sense of community within the building or complex, as residents will have the opportunity to interact with each other daily.
Businesses
Businesses renting commercial space in a multi-use commercial property can benefit from increased foot traffic and visibility. This is because people visiting the retail or residential components of the property will also be exposed to the businesses located there. Additionally, businesses located in mixed-use properties often have the advantage of offering extended hours of operation. They are not limited by the hours of operation of the other components of the property.
One risk to mixed-use is that they often require a higher up-front investment than traditional single use development projects. Additionally, mixed-use developments can be more challenging to finance and manage than conventional development projects.
There is also potential for conflict between the different uses within a mixed-use development. For example, different expectations between residential and commercial tenants may lead to increased operational costs and lower occupancy rates. Finally, because mixed-use developments are typically located in urban areas, they may be subject to greater regulation than traditional development projects, which can add to the overall risk of the investment.

Inspections for Mixed-Use Buildings and Developments
It's important to note that mixed-use building and development inspections are something that should not be overlooked, even though the numerous uses of the development or building may make an inspection seem daunting and time consuming.
Using an end-to-end property inspection and operations app like Property Inspect allows mixed-use property owners, developers, managers and even facilities managers to save time, money and create safer spaces for us to live, work and play. Templates can be created all within the same account for apartments, retail, commercial office, you name it, it's all right there for simplicity and less headache.
For more information, read our blog on commercial building inspections and multifamily inspections visit.