New technologies continue to disrupt real estate industries the length and breadth of the globe, including the multifamily sector. In the digital age, technology adoption has accelerated communications, transactions, and collaborations between people, businesses, institutions, and processes. The result is a shift in how we live and work.
Redefining properties as connected spaces with access to dynamic services has created new opportunities for property management companies working in the multifamily sector. Reimagining buildings as smart environments has enabled new software solutions for managing properties more efficiently.
The creation of intelligent buildings connected with emerging technologies, such as IoT sensors and cloud-based property management software, has opened doors for new ways to manage the multifamily asset. In addition to this, the emergence of blockchain technology is changing how we think about data security and trust among parties involved in the real estate transaction chain.
Location-based services and real-time analytics for multifamily real estate
Traditional technologies for managing communication and workflow have become increasingly obsolete. Augmented reality (AR) and virtual reality (VR), along with artificial intelligence (AI), machine learning, blockchain, and the Internet of Things (IoT), have all created new ways of connecting people, data, and systems.
Location-based services have emerged as an essential component of these technologies for managing communication between people and assets. In the real estate industry, location-based technologies have enabled companies to create real-time analytics for managing assets and workflows, helping them stay on top of their multifamily investments.
Real-time information gives clients and decision makers insights that can inform decisions, provide a better service, and show progress toward goals and milestones. For example, a multifamily property management company can use location-based technology to track assets and people in real time, creating "virtual fences" around each property to know when people enter and exit.
This helps multifamily property managers safely and securely manage a property, which is becoming increasingly important for residents. Additionally, it allows property managers to coordinate maintenance staff and contractors in real-time, feeding back any and all information to a secure server for review.
Blockchain for data security and trust in the multifamily sector
Blockchain is a shared ledger that uses code and cryptography to track transactions between two or more parties. The technology's most visible applications are in cryptocurrencies like Bitcoin and Ethereum. But blockchain is also transforming industries like finance, logistics, and real estate. Blockchain is much more than just Bitcoin, although the two are regularly conflated.
Blockchain technology, in its simplest form, is a distributed ledger that allows people to create a shared, unchangeable record of transactions. The technology is secure because each party has a copy of the ledger that is visible to all parties involved. If someone tries to change one record, everyone else on the chain will see the change, and the record remains unaltered.
That shared ledger solves the biggest pain point of centralized record-keeping — trust. In centralized systems, a single party (whether that's a bank or a government) has full control of the records. But with blockchain, multiple parties can access a shared ledger on which information is visible to all parties involved.
The application of Blockchain in real estate has become a hot topic, as so often the inefficiencies in the real estate transaction process are slow. This makes things especially frustrating for tenants, buyers and sellers who want to see the process resolved as quickly as possible. The same goes for investors who want to see a return on their investment as quickly as possible.
Blockchain is tipped to play a vital part in the unification of real estate, underpinning and facilitating almost every conceivable transaction, financial or otherwise, to greatly improve the process for all stakeholders.
While ambitious technology companies are beginning to experiment with Blockchain technologies, few have made an impact in the space. However, the next few years are vital as the rising cost of living is beginning to impact real estate markets the world over.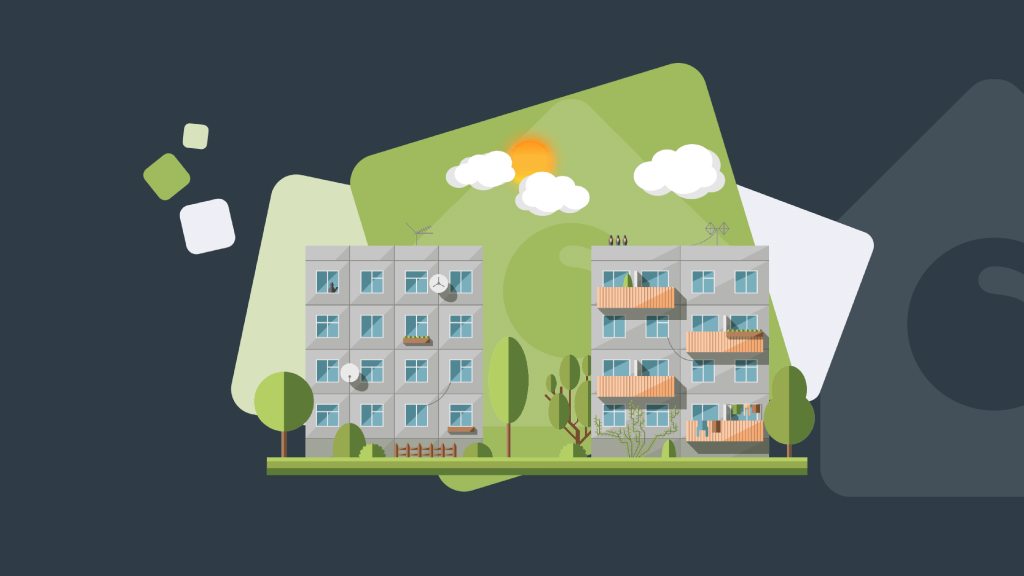 Multifamily buildings as smart environments with IoT sensors
The Internet of Things (IoT) is an ecosystem of "connected things" that use sensors, embedded software, and data networks to exchange information. IoT technologies are transforming everything from the way we shop, travel, and manage our homes. For the consumer, connected technologies are enabling a smart home revolution.
IoT technologies have also been heavily adopted in the real estate industry to create more intelligent buildings. The sensors in these systems collect data about the building's energy use, temperature, and other factors. They also connect these buildings with people, devices, and other systems outside the building.
Buildings with IoT systems have opened new possibilities in building management. For example, IoT sensors help reduce energy use, improve the indoor environment, and increase building safety. Commercial real estate has seen the highest adoption rates, helping businesses drive rates down and right-size, but they're beginning to find their way into residential real estate sectors, especially in the multifamily space.
The importance of technology in multifamily real estate
The real estate industry is being transformed by new technologies that are reshaping the way we think about buildings, transactions, and data. Existing technologies are finding new applications in residential and commercial real estate, beyond their originally intended use.
Virtual reality, for example, has moved beyond gaming and tourism to be used by architects and interior designers who want to create 3D models of buildings and redesign interiors. Companies like Matterport are using VR technology to transform the process of viewing properties, and have been for some time.
Blockchain is another example. Something most often associated with finance is now being used to power information sharing in a fast and secure way. Blockchain is now a part of property sales, where it is used to share information about the property, the identity of the seller or buyer, financial information about lending, and so much more.
As these technologies continue to evolve, new proptech solutions will emerge to solve age-old real estate problems. Virtual reality, artificial intelligence, machine learning, blockchain, and the Internet of Things are re-imagining real estate, creating more collaborative ways of working, while transforming data security and trust to create more intelligent buildings that can be managed remotely and efficiently.