The risks of poor hygiene in restaurants are numerous and can be highly damaging to even the most established businesses. Regular maintenance and review is necessary to make sure your business is as compliant as possible with your relevant state and federal health requirements.
Besides the danger to your customers' health, poor standards can also be very costly in lost business and fines for restaurateurs who don't pay the utmost attention to how they can ensure their premises and practices are safe.
Property Inspect has worked with major chain fast food restaurants in multiple countries to monitor and improve food safety and our experts know the true value of restaurant health inspections.
How does food poisoning happen?
Food poisoning occurs when you eat or drink something that has been contaminated with germs, either during processing or cooking. The most common infections come from campylobacter, E. coli, and salmonella but there are a number of other viruses and bacteria that can live in contaminated produce.
Most food poisoning occurrences have similar symptoms, including vomiting and diarrhea, stomach cramps, and a high fever. Food poisoning is often treated at home but can become more serious. The CDC estimates that around 1 in 6 Americans will get sick with food poisoning each year and around 3,000 people die yearly from foodborne illnesses.
What are the responsibilities of a business?
Your food safety responsibilities as a restaurant include a focus on:
Cleaning and sanitization
Personal hygiene of staff
Food storage
Food preparation
Product quality
You can risk fines and penalties for failing to maintain a clean and safe restaurant environment, not following handwashing procedures, leaving food out of the refrigerator for too long, or failing to follow procedures to ensure food is cooked thoroughly and no dangerous microbes remain.
To ensure the safety of your patrons, you should also pay attention to your supply chain, ensuring that recalls are followed where necessary and that your suppliers comply with the Food Safety Inspection Service (FSIS) expectations.
What are the damages of poor hygiene?
The immediate cost of restaurant health violations will vary depending on the state your business operates in but, in the most dramatic cases, as with Chipotle in 2020, can total millions. While this is due to the chain operating hundreds of restaurants, the total cost of penalties can be in the thousands even for small businesses.
In addition, the damage to your reputation could be considerable. In 2015, Chipotle saw profits fall by 44% after a number of food poisoning reports and in 1993, an E. coli outbreak at Jack in The Box resulted in a loss of customers for 18 months and saw profits fall by $160 million.
For small restaurant businesses, a loss of trust from your customer base could be drastic. With profit margins ever shrinking and competition hotter than ever, keeping your reputation as a trustworthy business can be essential to survival.
Major chain fast food poisoning complaints in 2022
To assess the hygiene performance of major chains in 2022, we analyzed data from iwaspoisoned.com, a site where people can self-report food poisoning issues from restaurants, supermarkets, and specific products. This site is used worldwide but our analysis only focused on reports from the US and covers 30,000 food poisoning reports in 2022 so far.
While self-reported data isn't always fully reliable, this data gives us an understanding of the perceived effects of food poisoning reports rather than the official reports from individual brands.
Additionally, this site has been the focus of major issues for food brands and restaurants in the past. For example, earlier in 2022, Lucky Charms came under fire for over 7,300 reports on the site for food poisoning claims, as reported by Forbes.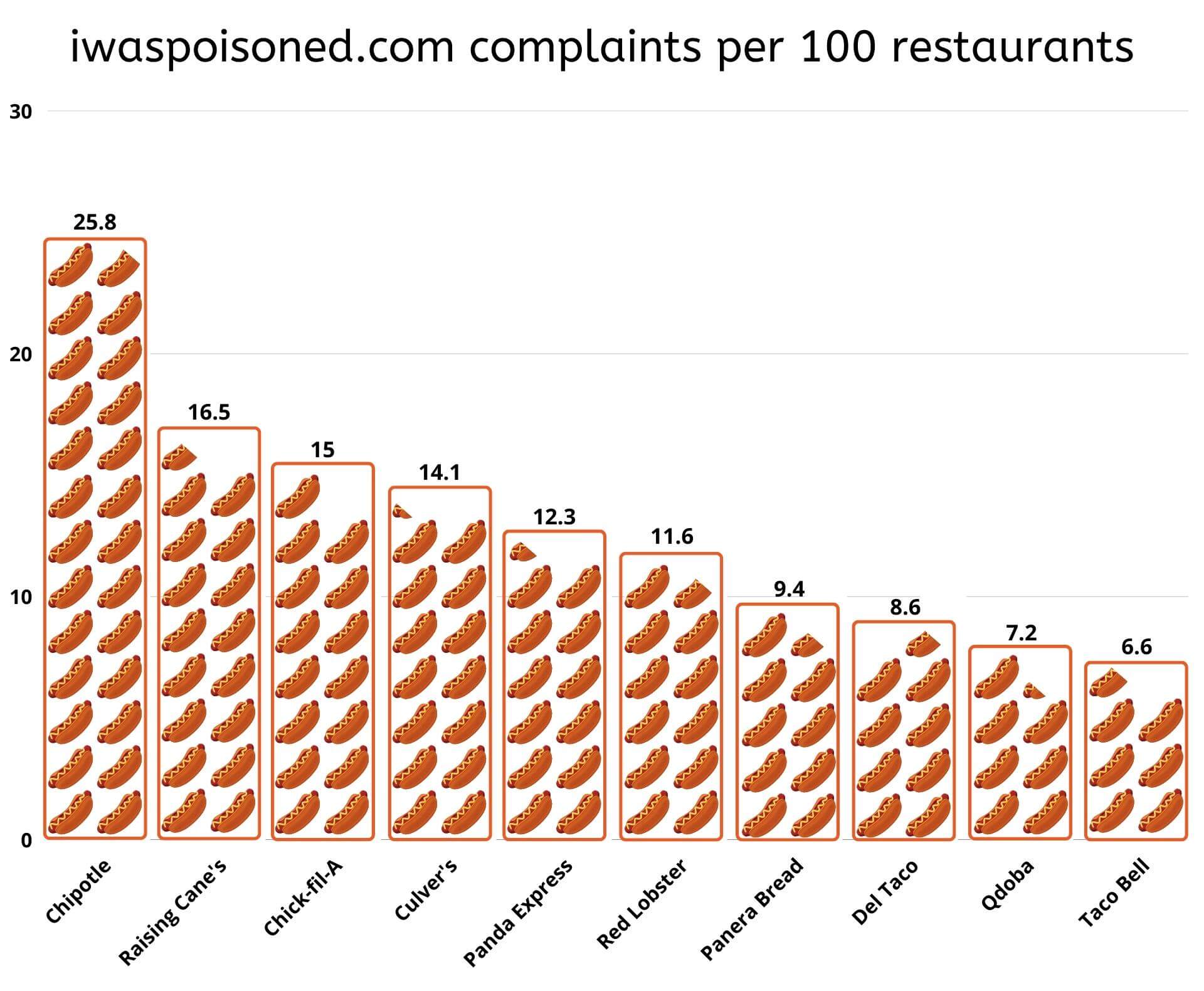 Top 15 fast food chains for food poisoning complaints
| | | | |
| --- | --- | --- | --- |
| Restaurant | Number of Restaurants | Volume | complaints per 100 restaurants |
| Chipotle Mexican Grill | 3,009 | 776 | 25.8 |
| Raising Cane's Chicken Fingers | 624 | 103 | 16.5 |
| Chick-fil-A | 2,600 | 391 | 15.0 |
| Culver's | 823 | 116 | 14.1 |
| Panda Express | 2,187 | 269 | 12.3 |
| Red Lobster | 670 | 78 | 11.6 |
| Panera Bread | 2,176 | 205 | 9.4 |
| Del Taco | 593 | 51 | 8.6 |
| Qdoba | 750 | 54 | 7.2 |
| Taco Bell | 7,639 | 507 | 6.6 |
| MOD Pizza | 530 | 35 | 6.6 |
| Applebee's | 1,587 | 104 | 6.6 |
| Buffalo Wild Wings | 1,226 | 74 | 6.0 |
| Wendy's | 5,896 | 334 | 5.7 |
| Popeyes | 2,834 | 155 | 5.5 |
With the most reports overall and the most reports per 100 restaurants, Chipotle is the most commonly reported fast food chain for food poisoning in the US. This aligns with previous issues faced by the chain, such as the $25 million in damages they were ordered to pay in 2020 and their major loss of revenue and customers in 2015. The restaurant chain sees over 10 reports per 100 restaurants more than the next brand and has received almost 800 reports in 2022 alone.
Though the brand has much fewer restaurants than Chipotle, Raising Cane's Chicken Fingers comes second with 16.5 complaints per 100 restaurants but only a total of 103 reports in 2022 so far. Larger chains like Chick-fil-A, Panda Express, Panera Bread, and Taco bell also feature in the top 10.
The states with the most food poisoning reports 2022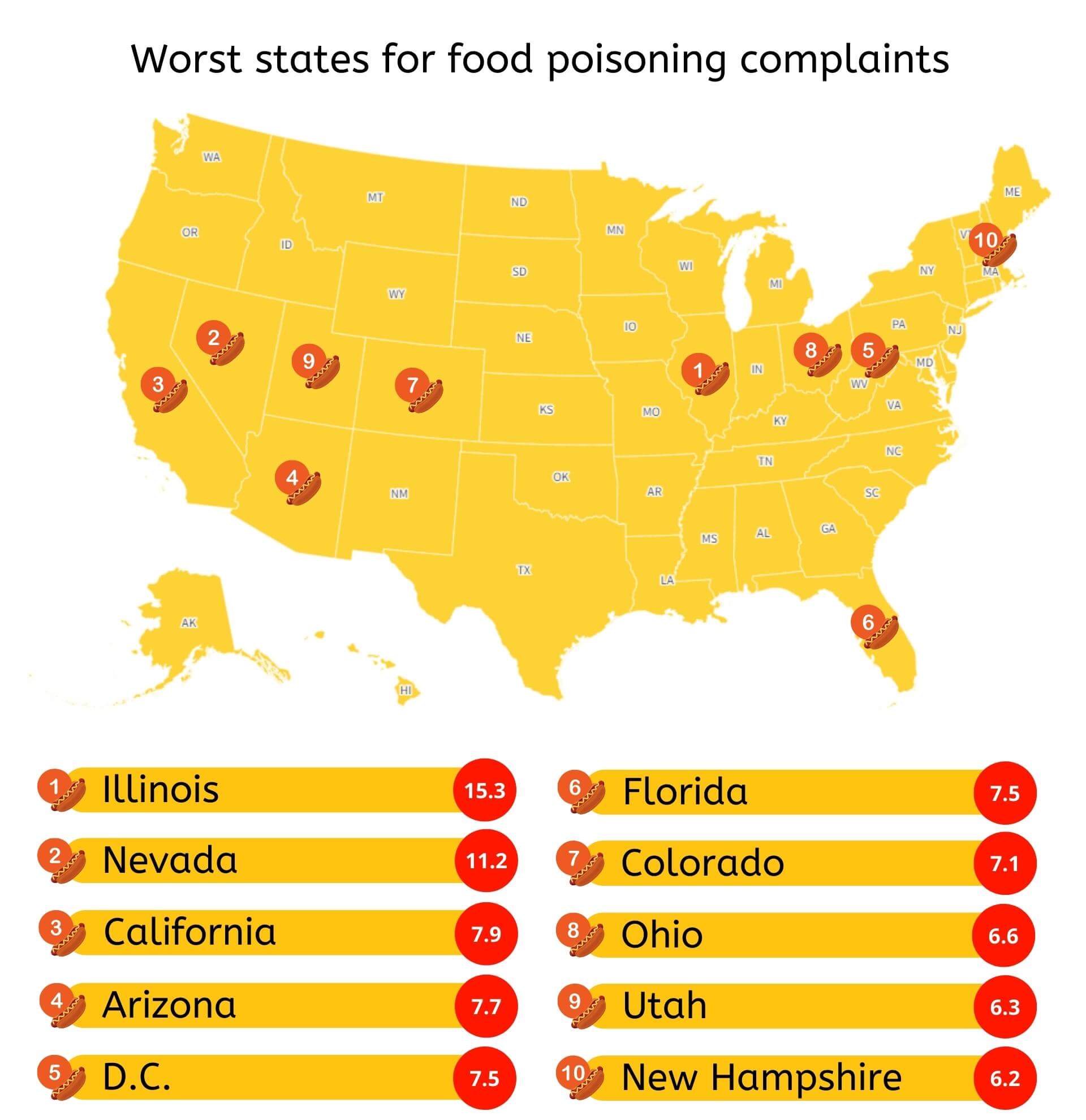 As the most populous state, California saw the most overall reports, with over 3,000, but when analyzing the results per 100,000 residents, it's Illinois that sees the most food poisoning complaints. 15 people in every 100,000 have complained of food poisoning in 2022 so far, with over 1,300 of the total 1,900 reports coming from the state capital Chicago.
The restaurants with the most complaints in each state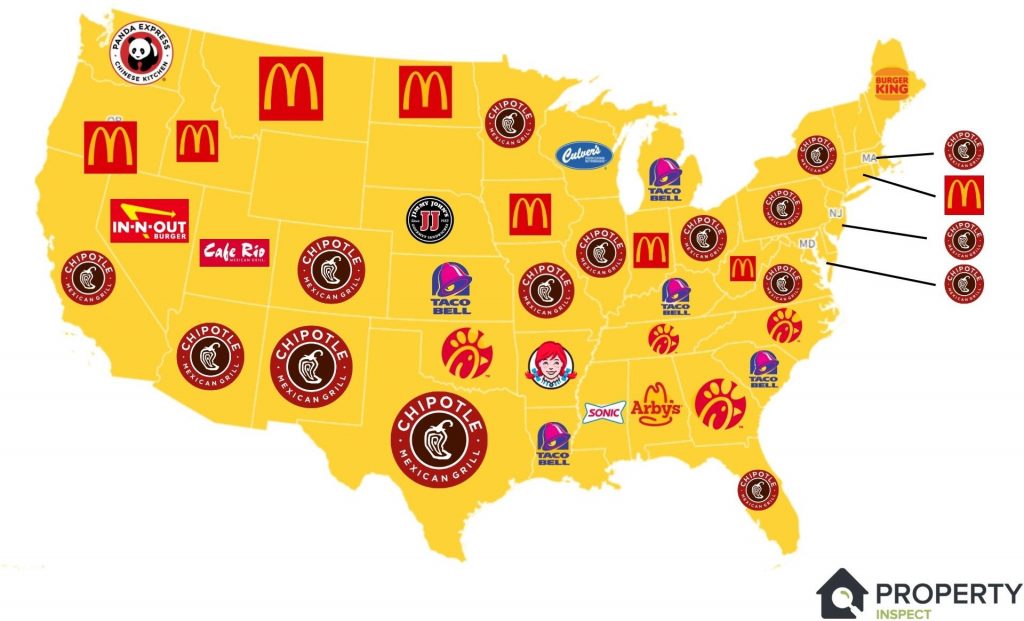 Similar to the national results, Chipotle was most commonly the top complained about chain, coming first in 16 states. Following this was McDonalds in eight states and Chick-fil-A and Taco Bell in four states each.
States omitted due to insufficient results: DE, DC, AK, HI, NH, RI, SD, VT, WY.
The importance of regular inspections
Restaurants in the US are expected by the FDA to receive health inspections every six months so you'll need to ensure that standards in your business never drop. You'll also need to ensure your Food Protection Manager knows your processes and expectations thoroughly and can communicate these to any inspector.
Because health inspections can be a surprise for many businesses, conducting regular reviews of your health and safety performance, as well as monitoring your performance over time is essential to prove that your business is running smoothly.
How to prepare for a health inspection
Ensure your certified Food Protection Manager is present – this is the person who will communicate with your inspector and let them know what kind of logs you keep for hygiene processes
Ensure every member of staff knows, understands, and follows all procedures – have a robust training program ready for new staff and ensure everyone knows how to track and log hygiene and safety procedures
Store your hygiene and health and safety reviews in a central location – using a health inspection software platform to manage your logs and track improvements will be a great help when inspectors come along as they will have access to historic data and evidence that you are compliant
Fix your violations immediately – if your last health inspection revealed any issues, you need to correct these as soon as possible and carry out retraining for staff to ensure the issue doesn't happen again
Conduct regular reviews of your policies and staff – with so many policies and expectations, it's natural for standards to slip every now and again. With regular training and reminders, you can ensure staff are always aware of their expectations and avoid future penalties from health inspections.
For leading hospitality industry insight, download the Property Inspect white paper for free.