In December, The U.S. Department of Housing and Urban Development (HUD) released part one of its 2022 Annual Homeless Assessment Report (AHAR) to Congress, outlining the latest statistics around homelessness in the US and the initiatives that the current administration is rolling out in response to what it calls the "post-2016 trend of rising homelessness".
HUD typically releases the report to Congress in two parts, with part one providing a Point-in-Time (PIT) estimate. This offers a snapshot of homelessness on a single night, which is used as an estimate to gauge the number of people experiencing homelessness across the country and throughout the year.
As with previous years' reports, the single night count was conducted during the final 10 days of January. The 2022 report revealed that 582,462 people were experiencing homelessness on a single night in January 2022. Compared with the count in 2020, homelessness among people in unsheltered settings increased by 3.4% while homelessness among people in shelters declined by 1.6%.
To counteract the overall rise in homelessness, the Biden-Harris administration announced in December its ambitious plans to bring about a 25% reduction in homelessness by 2050 in what it called "All In: The Federal Strategic Plan to Prevent and End Homelessness".
President Biden said: "My plan offers a roadmap for not only getting people into housing but also ensuring that they have access to the support, services, and income that allow them to thrive…It is a plan that is grounded in the best evidence and aims to improve equity and strengthen collaboration at all levels."
But the plan has drawn criticism from Yahoo! News, USA Today other media outlets for being a "failed experiment". Despite extensive federal investment – the plan proposes doubling the annual budget from $4.1bn to $8.7bn – critics point out that the number of homeless people on American streets doubled under Housing First, a program that also received billions of dollars in funding.
Although the COVID-19 pandemic certainly exacerbated the homelessness crisis, experts agree that the writing was on the wall long before that. Pre-pandemic data issued by HUD revealed a 15.6% increase in the nation's homeless population, and in California, the statistics paint an even grimmer picture. The Golden State became the only state to fully adopt Housing First in 2016, however, pre-pandemic data revealed a 33.8% rise in homelessness.
What are the challenges and causes of homelessness in America?
President Biden's plan outlined a number of challenges that stand in the way of opportunity and progress in the fight against rising homelessness. The following issues are among them: a distinct lack of housing supply; rising rental costs; slow income growth; and scarce alternatives to unsheltered homelessness.
From this list, three stand out as particularly universal challenges encountered time and again across many Western nations. Here's a rundown of those issues and how Property Inspect can help in our area of expertise.
1. A considerable lack of housing supply
If housing is the solution to homelessness, then the US might not have the answer. Across the nation, there is a considerable lack of affordable housing that is also safe and accessible. Before the pandemic, there was a shortage of 7 million homes for low-income renters, which is the result of many factors.
To make matters worse, people who were in receipt of housing vouchers or rental assistance still had to face a fiercely competitive rental market. There is also the added issue of bias and discrimination, with many denied on the grounds of race or gender identity, so too for their criminal records and credit history.
2. Rising rents and slow income growth
As is the case across most Western nations, wage growth has been slow across the board, but it has hit the lowest-paid workers in society the hardest. This isn't a new challenge – for many, rental accommodation has been unaffordable for decades as wages barely keep up with the rise in rent. According to Biden's All In, 70% of the lowest-wage households typically spend more than half their income on rent.
This puts them at risk of homelessness, as even the smallest unexpected expense can lead to severe consequences. One report even points out that in not one state can a person working full-time at the federal minimum wage cannot afford a two-bedroom apartment.
3. Service providers are overworked
Service providers are stretched thin by low investment in their sector, having to use outdated systems and time-consuming processes while suffering stagnant wage growth. This leads to high staff turnover and absenteeism, which makes it hard for those remaining to do their jobs effectively without suffering from burnout or worse.
One service provider operating out of Fairbanks, AK, said that service providers are "soul-crushingly tired" and the systems they work in are "broken". But this point goes beyond just the homeless services sector.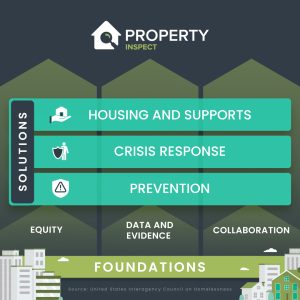 Many local authorities and municipalities across the United States are struggling to keep up with their rising caseloads, too. Some have turned to technology in the hopes that it will improve efficiency and throughput. For many, the results have been encouraging.
Take for example the Department of Community Planning, Housing & Development in Arlington County, VA, whose federally-funded and locally-administered Arlington Housing Choice Voucher Program helps to give low-income families access to safe and affordable housing in the local rental market.
As with many local authorities, the Department operates under the HUD Inspection Act of 2021, which expands HUD's response to properties within a subsidised portfolio and aims to address the increasing number of low physical inspection scores.
While this is only one element of the challenges facing homelessness today, it's one that Property Inspect feel deeply passionate about, not to mention one that we are equipped to help with.
"To say our company is passionate about playing a proactive role in ending homelessness in the United States would be a huge understatement," said Ray Costello, Director of Sales for Property Inspect US.
"We are more than confident that our software and technology is a foundation solution that helps to assure the livability of affordable housing units."
Other issues at the national and governmental level may be outside our sphere of influence, but what we can do is help service providers on the ground address the challenges they face in their day-to-day working lives, not least in the area of HUD property inspections, which are notoriously time-consuming.
Digitising HUD inspections in the US
The people dedicating their lives to preventing and ending homelessness in their communities are acutely aware that their work could be made easier by investment from the top level into tools that help them do their job quicker and more efficiently.
For decades, housing authorities, municipalities, and the federal government have been using pen and paper forms to inspect state-funded and federally-funded affordable housing. For this reason, streamlining the inspection process and taking a more forward-thinking, digital-first approach to standards in the housing market can free up housing stock for those most in need much quicker than it would be otherwise.
It will take a monumental nationwide effort to make up the shortage of 7 million homes for low-income renters, but with collective might and the right tools for the job, little by little those numbers can be clawed back from the precipice. There are 30,000 municipalities in the United States, so if each municipality could inspect and provide a little over 200 affordable homes, then that shortage of 7 million homes would diminish significantly.
Property Inspect is currently assisting municipalities and housing authorities in Chicago and Baltimore, as well as the King County Regional Homelessness Authority (KCRHA) in Seattle and The Department of Community Planning, Housing & Development in Arlington, VA. Each authority implements our app-based inspection software platform, which streamlines their process for the Housing Choice Voucher (HCV) scheme and the required Housing Quality Standards (HQS) inspection and habitability certification process. In addition, Property Inspect also has built-in templates for:
Rapid Re-Housing HUD forms
ESG Forms
REAC inspections forms
Shelter inspections forms
HR Incident Report
HR + Resident Compliance
Homeless Census
HUD: Building Inspection
All in all, it has had a positive and quantifiable impact on each organisation. They have been able to save much-needed time to refocus their efforts on the part of their job that they love – putting smiles on their clients' faces by helping them find an affordable and safe home. All told, we've played a part in helping those housing authorities and municipalities cut the time it takes to get someone into affordable housing by half.
Not only that, but a byproduct of saving all that time is saving much-needed money. Those funds can then be redistributed to other programs that help those experiencing homelessness or housing insecurity find some stability and safety in their lives.
In the end, sometimes a simple solution can help us navigate through a complex situation. While we don't claim to be the answer that ends widespread homelessness in the United States of America, we are dedicated to working with authorities across the United States, lifting up communities in need in whatever small way we can.