When it comes to pest control, for many businesses the old adage "you only get one chance to make a first impression" rings true. Not only do pest infestations cause serious harm to a company's bottom line, but their brand reputation, too.
Anyone in business will know that their company reputation is of the utmost importance because, quite simply, firms with a positive reputation will attract and retain more customers and better staff.
For this reason alone, the most successful brands on the planet will stop at nothing to prevent and proactively manage pests. A failure to do so can devastate not only physical assets, finances and reputation, but also things like staff morale and, more importantly, consumer perception.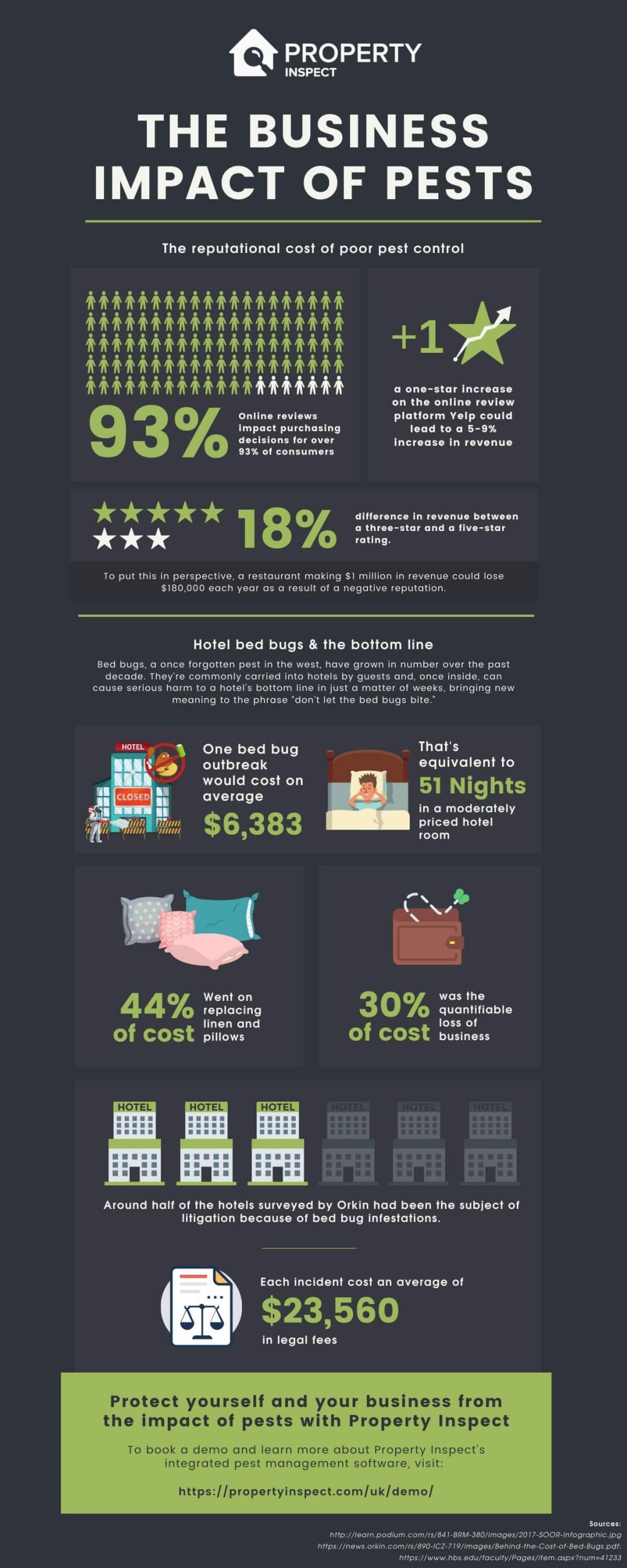 The reputational cost of poor pest control
In this day and age, online reviews play a huge part in a consumer's decision to buy a certain product, eat at any given restaurant, or use a particular service. Information travels fast and a brand's reputation can go from boom to bust overnight.
Online reviews impact purchasing decisions for over 93% of consumers, and this isn't just true for retailers like Amazon. The same can be said for restaurants, hotels and other businesses in the hospitality sector, too.
It's easy then to imagine that a pest infestation would spread like wildfire through online review sites like Facebook, Yelp, or Google. Because of this, it's really important for firms to do their due diligence.
In the case of restaurants, a study by Harvard Business School found that a one-star increase on the online review platform Yelp could lead to a 5-9% increase in revenue, with an 18% difference in revenue between a three-star and a five-star rating. To put this in perspective, a restaurant making $1 million in revenue could lose $180,000 each year as a result of a negative reputation.
The study also found that the market share of chain restaurants declined in line with the volume of negative reviews, suggesting that online reviews are directly linked to business reputation.
Elsewhere in the hospitality sector, we know that hotel prices have always fluctuated with seasonality or local factors such as events, but these days online reviews influence what hotels charge for a room. How do pests affect this?
Well, take bed bugs, for example. They're not just a nuisance pest that can result in costly remediation or litigation, but a significant challenge for any accommodation provider in the hospitality sector.
When it comes to consumer reviews and brand reputation, a single outbreak of bed bugs can dramatically impact room revenue for the average hotel.
Hotel bed bugs and the bottom line
Bed bugs, a once forgotten pest in the west, have grown in number over the past decade. They're commonly carried into hotels by guests and, once inside, can cause serious harm to a hotel's bottom line in just a matter of weeks, bringing new meaning to the phrase "don't let the bed bugs bite."
A report conducted by Orkin asked hoteliers about the costs associated with a bed bug infestation, highlighting examples ranging from the loss of room revenue to pest control treatment and even reputational damage. The findings are staggering.
One bed bug outbreak would cost, on average, $6,383. This is equivalent to 51 nights in a moderately priced hotel room. Understandably, replacing linen and pillows accounted for 44% of this cost, but the quantifiable loss of businesses counted for a whopping 30%.
To make matters worse, almost half of the hotels surveyed by Orkin had been the subject of litigation because of bed bug infestations. With an average litigation cost of $17,177 per incident plus remediation costs thereafter, the total grew to an average of $23,560 per incident.
Their research found that hotels have an average of 7.1 bed bug occurrences over a five-year period, bringing the combined cost to an eye-watering $167,276. Now you see why 91% of hoteliers are concerned about the damage bed bug infestations cause to their bottom line.
As we've highlighted, poor pest management can be damning. It hits financials hard, an issue under even more scrutiny recently due to the pandemic, where every penny has counted.
Businesses in one of the worst affected industries emerging from an economically devastating period must now pay close attention to pest control. But how?
The benefits of integrated pest management
Whether a customer is eating in a restaurant or staying in a hotel, they need to feel that they're getting the best bang for their buck. They expect standards like health and safety, hygiene and cleanliness to be upheld no matter how much they're paying, so the slightest hint of a pest infestation is likely to sour that relationship for a long time, ultimately leading to reputational damage and financial loss.
With staffing levels in the hospitality industry beginning to recover, it's now up to stakeholders to outline a clear approach to pest control. Performing checks early and often by digitising the pest inspection and reporting process can be easily achieved with modern pest control reporting tools like Property Inspect.
Integrated pest management software (IPM) ultimately empowers teams to work more effectively and efficiently when it comes to pest management, allowing evidence to be captured in real-time, enabling teams to act across multiple sites to prevent and eliminate the risks associated with pests.
Pest reporting software is the answer for businesses in the hospitality sector looking to avoid the embarrassment and the costly implications of pests, all while proactively managing and controlling infestations and protecting a company's most valuable asset, its reputation, from negative consumer sentiment.
To book a demo and learn more about Property Inspect's integrated pest management software, click the button below: