Welcome to the second in our Surveyor 101 series, where we aim to give you a comprehensive guide to becoming a surveyor in the UK. In this article, we'll look at the industry by the numbers, the qualifications needed to become a surveyor, and the expected salary for graduate surveyors, mid-level surveyors, and senior surveyors.
What does a surveyor do?
A career in surveying can be varied and deeply fulfilling, with a blend between fieldwork and office work and hundreds of career options to choose from. A career in surveying sees building surveyors work with diverse teams in other sectors, interacting with other team members such as architects, safety inspectors and developers. This can open doors to numerous opportunities and benefits, not to mention new career pathways.
Building surveyors are responsible for many things, including project management, costings, appointing contractors, procuring services, analysing buildings and creating reports, advising on the supervision, maintenance health and safety of buildings, and much more. There are many roles within the surveying industry, such as land surveyor, quantity surveyor, and party wall surveyor to name just a few, and no two will be completely the same.
For example, a home surveyor will typically take precise measurements and assess the quality of certain aspects of a property, before producing a report which will be used in legal paperwork. A valuation surveyor, on the other hand, will conduct property or land valuations, often specialising in certain types of property.
"Surveyors keep traffic flowing, water running and people moving. They shape our roads, bridges and tunnels, our skyscrapers, stations and stadiums. They work in mines and in fields, on cliffs and on beaches. They value the houses we live in and the places we work in. They create safer homes and happier communities."
Royal Institute of Chartered Surveyors
How many surveyors are there in the UK?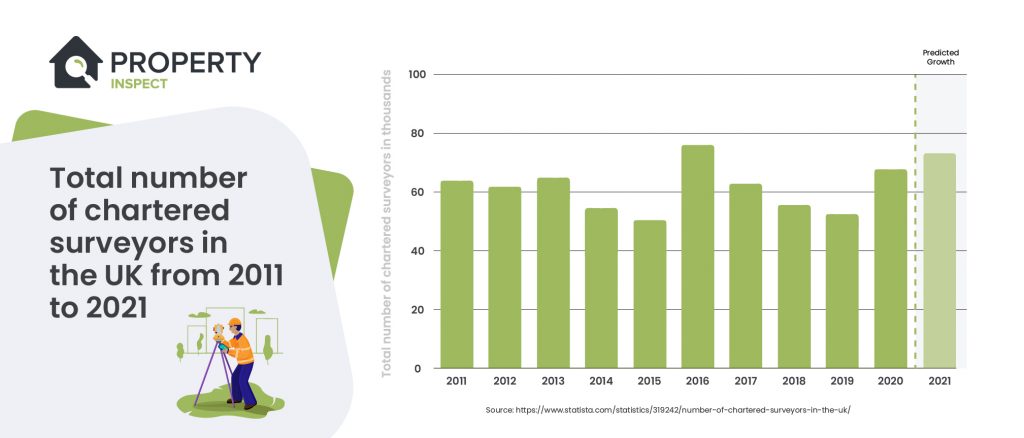 According to Statista, the number of chartered surveyors in the UK grew from 50,000 in 2015 to 75,000 in 2016. Although the number of chartered surveyors in the UK fell over the following three years, the numbers have now started to strengthen again. In London, there are approximately 20,000 chartered surveyors, making it one of the most competitive regions for surveying in the United Kingdom.
The number of people starting their careers in the surveying industry has continued to rise steadily year after year. Encouragingly, the growth continues on even during the pandemic. The latest data from RICS (Royal Institute of Chartered Surveyors), conducted during the height of the global pandemic last year, suggested that almost 500 graduate surveyors gained qualified status between March – when it implemented an online platform for surveyors to take their assessment – and June. Another 500 were estimated to qualify before the end of July that same year.
Taking the latest RICS data into account, it is now projected that the surveying industry will have returned to 2016 levels with over 70,000 chartered surveyors in the UK in 2021, showing once again that surveying is fast becoming an attractive career option. While this data reflects the number of employed and self-employed chartered surveyors in the UK but does not factor in surveyors not affiliated with the Royal Institute of Chartered Surveyors, of which little data is available.
What qualifications do I need to become a surveyor?
There are numerous routes to becoming a surveyor in the UK. As we discussed in our previous article, not all surveyors are chartered surveyors, so it's possible to become a building surveyor without a degree. A chartered surveyor is someone who is a member of RICS, and their route into the field may differ from other surveyors.
​​To become a member of RICS, one doesn't need to go down the traditional route of graduating from a full-time RICS-accredited degree course. One can opt to take an apprenticeship after their GCSEs.
Some apprenticeships, like a Surveying Technician apprenticeship, Geospatial Survey Technician apprenticeship, or a Chartered Surveyor apprenticeship, will also give budding surveyors a viable route into the industry. The latter apprenticeship takes five years, and the entry requirements generally include three A levels at Grade C or above. When the apprenticeship ends, it is counted as a degree and grants the surveyor membership to RICS.
A Surveying Technician apprenticeship, on the other hand, will take just two years to complete. Five GCSEs at Grade C, including maths and English, are generally accepted in the entry requirements. Completing this apprenticeship grants a Level 3 Diploma in Surveying, with the surveyor becoming an Associate member (AssocRICS) of RICS.
Alternatively, if one wishes to go down the degree route then there are a wealth of RICS-accredited degrees on offer. After completing this, the surveying graduate will then spend time on their Assessment of Professional Competence (APC) which, after passing, will grant them Membership of RICS accreditation.
Some businesses will even offer apprenticeship schemes of their own, taking graduates at varying stages of their surveying career.
How much do building surveyors earn?
With no shortage of companies, there is a wealth of building surveyor opportunities to explore. Over 10,000 companies are listed on RICS Find a Surveyor resource, a handy online tool to scout potential employers or hire a RICS accredited surveyor.
The salaries range vastly, depending on the role within surveying, the qualification required, location and the level of RICS membership.
For example, the typical starting salary for a commercial/residential surveyor ranges from £23,000 to £30,000. A RICS associate surveyor will see their income rise to approximately £48,000, while a chartered member can earn north of £70,000. A RICS Fellow (FRICS), can earn in the six-figures. In contrast, a non-RICS member in this equivalent position will earn approximately £50,000 per annum less than a RICS member.
A graduate building surveyor can expect to earn between £22,000 and £26,000 per year. This rate will be higher in places like London, but it acts as a guide for surveyors looking to get a foothold in the industry. After some experience, the salary could go as high as £50,000. Partners or directors in their own surveying firms can net a six-figure salary.
On average, the salary potential for a building surveyor is an encouraging £48,000. Again, chartered surveyors earn more. In this case, 38% more than non-chartered surveyors.
What salary can a graduate property surveyor expect?
As anyone knows, after graduating you'll pay particular attention to the average salary you can expect. For newly qualified surveyors it's no different. In fact, research has shown that it is a 'very important' factor when deciding on an employer. Graduate jobs in property, specifically surveying, typical start between £20,000 and £30,000 per year. This depends on the role, the amount of experience, the qualification, and the location.
The Royal Institute of Chartered Surveyors, which surveyed 5,807 property professionals in the UK, revealed that the average base salary outside of London was £25,000. In London, that base salary is around £29,000.
However, as we mentioned, this can differ depending on the specialism of the graduate surveyor. For example, graduate surveyors working in planning could expect to receive £28,000 in London or £24,000 outside of London. Surveyors with a specialism in valuation could expect a salary of £30,000 in London or £23,000 outside of London.
How much do quantity surveyors earn?
According to TotalJobs, the average salary for a quantity surveyor is £57,500. This is an average taken across all job listings for the quantity surveyor role. Again, it's worth mentioning that the amount of experience and the type of qualification will play a significant role in how much a quantity surveyor earns, as does the location. Below is a snapshot of the average quantity surveyor salary for a number of locations across the UK.
| | | |
| --- | --- | --- |
| Location | Average | Range |
| Maidstone | £72,500 | £57,500​-​£77,500 |
| Wolverhampton | £70,311 | £47,500​-​£80,746 |
| City of London | £67,500 | £52,500​-​£82,500 |
| East London | £67,500 | £52,500​-​£83,366 |
| North West London | £67,500 | £57,500​-​£77,500 |
| Central London | £65,000 | £62,500​-​£77,500 |
| South East London | £62,500 | £52,500​-​£72,500 |
| West London | £62,500 | £52,500​-​£87,500 |
| South West London | £62,500 | £55,000​-​£75,000 |
| Cambridge, Cambridgeshire | £62,500 | £52,500​-​£62,500 |
| Ipswich | £62,500 | £50,000​-​£80,704 |
| Worcester | £62,500 | £43,750​-​£62,500 |
| North London | £57,500 | £47,500​-​£62,500 |
| Leicester | £57,500 | £47,500​-​£72,500 |
| Northampton, Northamptonshire | £57,500 | £52,500​-​£62,500 |
| Reading | £57,500 | £52,500​-​£72,500 |
| Milton Keynes | £57,500 | £52,500​-​£72,500 |
| Solihull | £57,500 | £47,500​-​£57,500 |
| Coventry | £57,500 | £52,500​-​£67,702 |
| Birmingham | £55,000 | £47,500​-​£67,500 |
| Southampton | £55,000 | £42,500​-​£62,750 |
| Croydon, Surrey | £55,000 | £47,500​-​£68,750 |
| Watford, Hertfordshire | £53,750 | £42,500​-​£67,500 |
| Manchester | £52,500 | £47,500​-​£66,250 |
| Leeds, West Yorkshire | £52,500 | £47,500​-​£57,500 |
| Warrington, Cheshire | £52,500 | £47,500​-​£63,750 |
| Nottingham | £52,500 | £47,500​-​£57,500 |
| Liverpool | £52,500 | £47,500​-​£67,500 |
| Salford, Greater Manchester | £52,500 | £42,500​-​£58,750 |
| Doncaster | £52,500 | £47,500​-​£56,875 |
Source: TotalJobs
How much do chartered surveyors earn?
According to data supplied by Glassdoor, the average salary for a chartered surveyor is around £40,000 per year, with a low average of £28,000 and a high average of £68,000. A quick glance across the listings on the job site reveals what some of the biggest names in surveying are offering.
Savills are tempting chartered surveyors with an average £44,444 base salary per year, while Knight Frank is on the lower end of the average chartered surveyor salary, offering an average of £37,674 per year. Montagu Evans on the other hand is offering chartered surveyors an average base salary of £47,315 per year.
The surveying industry outlook
All things considered, we see the surveying industry in a very strong place; excellent salaries commensurate with experience, a vibrant, innovative and varied work environment, and myriad career pathways and opportunities. In addition to this, surveyors are now entering the industry with new ideas, fresh approaches and a technological mindset.
At Property Inspect, we support building surveyors every day with our end-to-end property management and home inspection software, helping surveyors of all stripes expand their capabilities, speed up their workflows and maximise the possibilities of their role even further.
If you'd like to learn more about the most trusted platform for property reporting across the UK, book a demo today.